About EY
A business of people has to be human first
EY's purpose is to build a better working world. But what does this mean day-to-day? It's providing quality services to build trust and confidence in the capital markets and in economies all over the world. And it starts with ourselves.
We are a business of people. The quality of our work is directly linked to the quality of our employees. That's why we invest in the outstanding leaders of tomorrow. Not by pitting them against each other on their way to success, but by building teams that deliver on their promises. In doing so, we play a critical role in building a better working world for our people, for our clients and for our communities.
EY in Belgium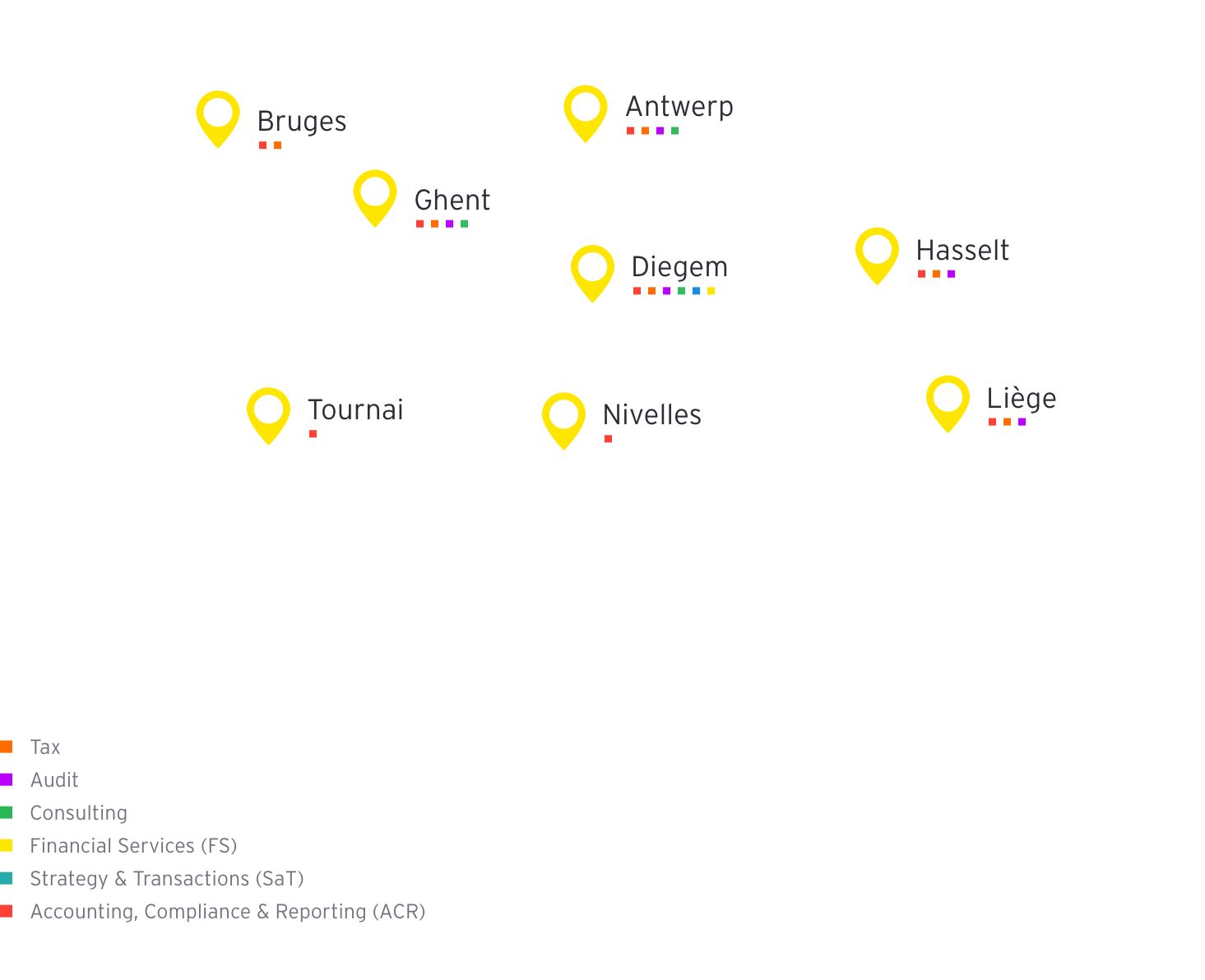 Building a greener working world
Building a better working world at EY also means building a more sustainable working world. That's why we take numerous initiatives each year, to make sure that the exceptional work that we do doesn't harm the environment.
91%
of our company cars were hybrid or even full electric by 2022
We plant 2 trees for every Belgian EY employee each year with the Life Terra foundation.
We save about 18.000 paper cups and 15.000 plastic bottles each month, by using our reusable coffee cups and water bottles.
But that's not all…
Our future headquarters, 'The Wings', were designed to contribute as much as possible to our sustainable mission.
Using solar panels and geothermal energy, we will be generating the maximum amount of renewable energy the building can provide.
With smart landscape design, we're making sure not only employees will be able to enjoy greenery at our site, but also local birds and bees. This way we will stimulate biodiversity.
Our (e-)bike parking will be almost as big as our car park, with 400 parking spots and plenty of charging possibilities.
We will be using reusable drinking bottles and cups in the building, so we have no more (that's, right, zero!) disposable drink waste
Finding your perfect spot at EY is important to us, but we understand that our service lines and sectors can be overwhelming. Don't worry, we're here to help. First things first, which sector would you like to work in?
Your career in Industries
When you choose to work in industries you don't focus on one specific sector. Instead you help a variety of clients with their similar challenges. Because our insights and solutions can be applied to any sector ranging from pharmaceuticals to retail to help them seize the emerging opportunities to reframe the future of their business. In Industries, you trade a deep sector knowledge for an all-round understanding of your service line.
Are you ready to build your career in industries? Discover the service lines you can join to help our industry-clients.
Check out our service lines
Your career in Financial Services
Do you believe in a stronger, fairer and more sustainable future for financial services? Then our financial clients need you. Banks, insurance firms and pension funds are facing a lot of challenges to meet their customer expectations and to continue to grow. You will combine EY's deep sector knowledge and technology to deliver solutions that build stronger and more sustainable financial services.
Are you ready to build your career in Financial Services? Discover the service lines you can join to help our Financial clients.
Check out our service lines
You can dive deep into the world of finance by helping financial institutions, banks, insurance firms, and more. Or, if you don't want to focus on one field, you can choose industries and work with clients from transport and logistics to pharma and retail. No two days, two jobs or two clients are the same.
Let's build your exceptional EY Experience.
It's yours to build.