Our colleagues at EY Consulting have all the answers. That's mainly because they know the best questions to ask; they know how to work together towards innovative solutions and they are able to deliver exceptional client service.
In a world that can completely change in a matter of hours, clients – across borders, fields and markets – look to you to help them navigate disruption. You are the calm in the storm that can help them see the Now, the Next and the Beyond. The scope of consulting ranges from business consulting to technology consulting and large-scale portfolio management.
Companies will ask you how they can run their businesses better. Can you help them find the answers?
Specialisations
In order to have all the answers as a consultant it's important to define your field of expertise. Because you can't know everything.
'A career as unique as you are' starts by making the right choice for a perfect fit. Within consulting, EY offers a range of specialisations for you to choose from.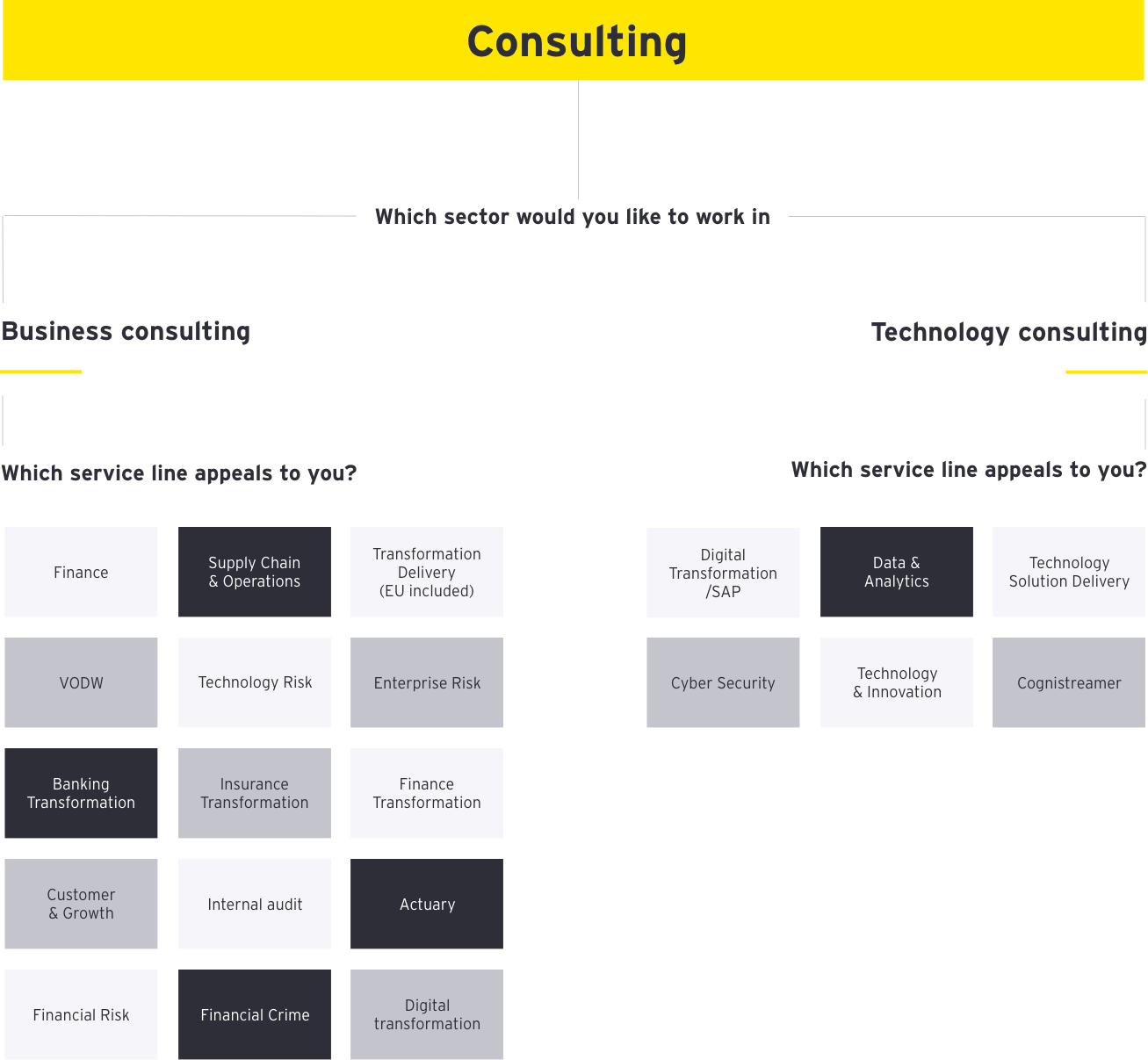 Supply Chain & Operations
Actuary (Financial Services)
You love numbers and statistics, especially when they allow you to assess risks.
Variation is what keeps you focused and motivated. That's why you love working in an international context with different clients and projects.
Transformation Delivery (EU Included) (Industries)
You are a man or woman with a plan and enjoy making them for our clients (who are mainly government institutions) as well.
You will rethink business strategies and operating models
The digital world has no secrets for you.
Banking and insurance transformation
You help our banking and insurance clients to anticipate and prepare for disruption. (They need you more than ever)
You love a challenge but you love the solution even more.
We play a key role in building the future of banking. We execute independently client engagements related to AML investigations, AML systems reviews, AML framework reviews, KYC due diligence & compliance reviews, fraud risk assessment, support and assistance in matters pertaining to financial issues like business interruption, etc.
You are an entrepreneur at heart and want to build new products and services for organisations.
You want to thrive, learn and grow in a team of multidisciplinary innovation specialists.
You want to proactively shape new business ideas.
Financial risk (Financial Services)
You believe that taking calculated risks is necessary to pursue profitable opportunities.
You want to provide clients with better risk management and guide them through the decision making process.
You are a finance fanatic who loves to strategies and (re)design finance operating models.
You implement intelligent automation to optimise finance costs and streamline services.
Internal audit (Financial Services)
You enjoy diving deep into the day-to-day business activities of prestigious financial institutions.
You know that small changes can make a big difference to a company's agility, efficiency and profitability.
You want a little bit of everything all of the time. From (third-party) risk management to internal audits and controls.
Efficiency is your middle name and agility is your preferred way of working to create true value.
You believe that sustainable growth relies on technology.
You find ways to improve IT processes & operations so that companies can grow in a safe way.
You are passionate about IT, finance and governance.
Supply Chain (Industries)
You analyse processes and spot the weak links.
You crave variety in your job and are interested in all parts of the end-to-end supply chain process.
Get a taste of all our competences ranging from planning, to procurement, manufacturing & logistics.
We define new (digital) business models, providing advice on optimal research methodologies to capture client insights, development of strategic concepts and application through the customer journey.
Digital Transformation / SAP
Technology Solution Delivery
You find the perfect balance between the needs of the business and its security.
Get to know the five core cyber capabilities: Cyber strategy and resilience, offensive / defensive security, cloud security & digital identify and trust services.
When you get the tools and advanced technology – like SAP – you can help organisations to gain intelligence and agility.
You are always up-to-date with the latest changes in business, technology and industry.
You help further build and improve our state-of-the-art software.
You believe in bringing people from all fields together to come up with the most innovative ideas.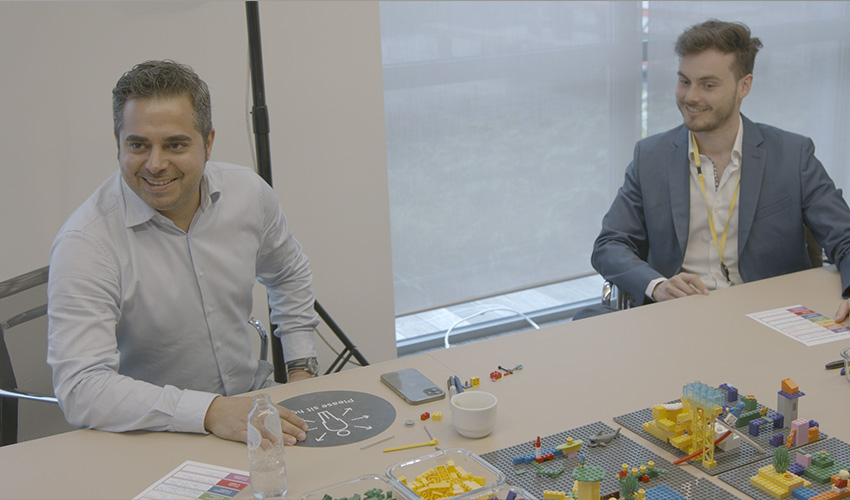 What is measured is what is known. And you love to measure and know everything.
You implement the information gathered from data to optimise the business's operational efficiency, costs and risk protection.
Technology & Innovation (Financial Services)
You look at a business's transformation from a technological point of view.
You are always up-to-date with the latest and most impactful trends in the market.
Technology Solution delivery (Industries)
You like to support clients through major transformations.
When it comes to solutions, you only believe in end-to-end implementation from strategy and architecture to production deployment.
The growth I went through in the past 6 years… amazing!

Thomas Richez

Senior Manager Technology SAP
Chicago, Sofia, Cannes… Wherever the client takes us.

Reza Guillaume

Executive Director Finance
If you want to become the best version of yourself, EY is the place to be.

Elodie Rutayisire

Technology risk consultant
At EY, it's never just work. There's room for fun too.

Vince Papelu

Supply chain & operations consultant
Or reach out to our recruiters:
Let's build your exceptional EY Experience.
It's yours to build.