Businesses can easily get lost in their taxes and legal obligations. It may not be their strong suit, but it is that of our colleagues at Tax & Legal. They help clients stay on top of their local and global tax and legal obligations and more importantly, enhance their financial reporting and performance.
Our Tax & Legal team works internationally on diverse, high-profile clients. It is their professionalism and entrepreneurial spirit that make a positive impact on the working world worldwide. Are you the tax professional or legal liaison that our clients are looking for?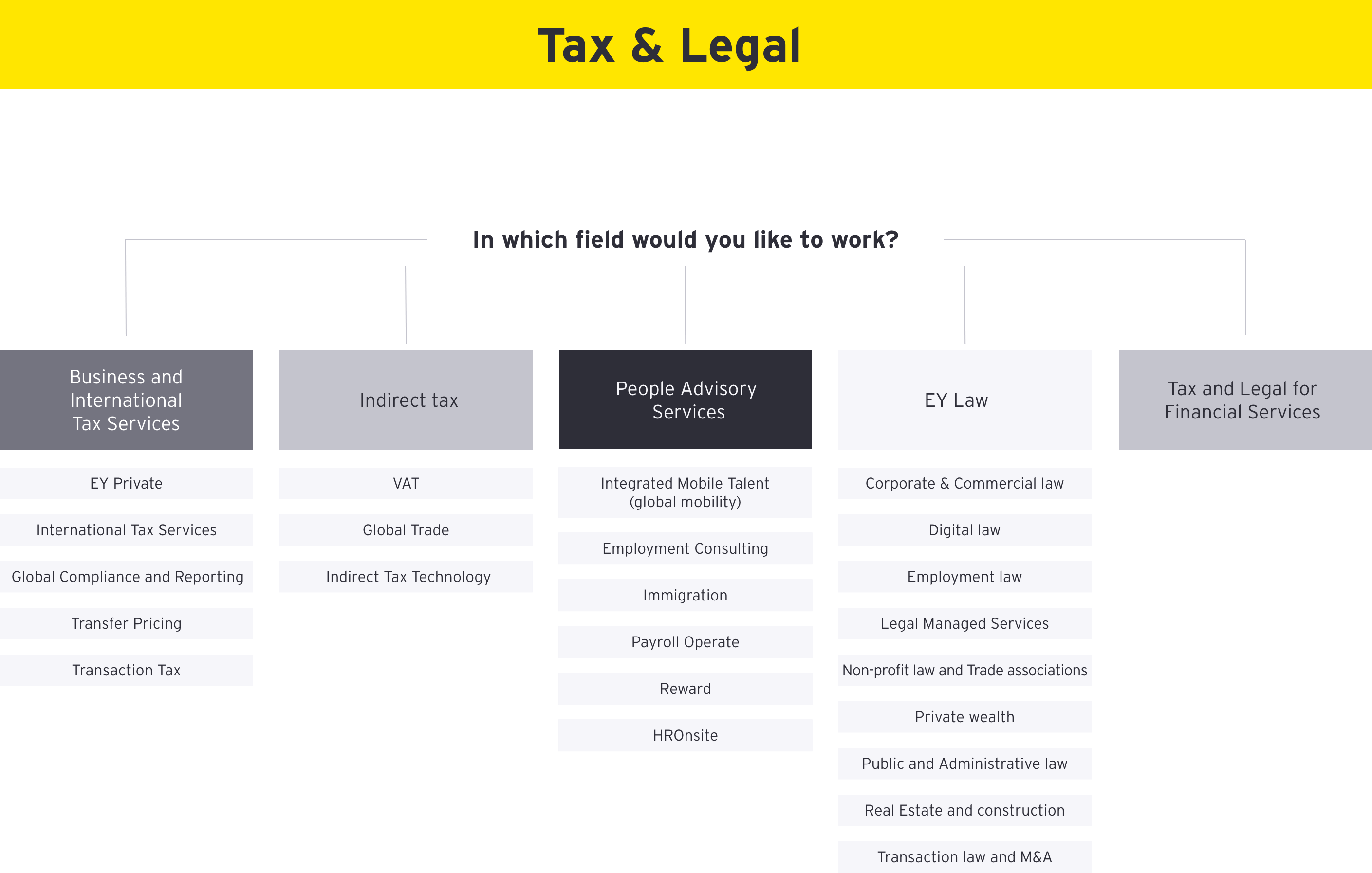 You think you know Tax & Legal, until you start working at EY … Make your new professional challenge an exceptional one and discover what we do.
Tax & Legal at EY
Find your perfect fit at EY Tax & Legal
Tax & Legal is such a broad field, that we offer a wide range of specialisations within the service line. Whether you want to focus on Business and international Tax Services, People Advisory Services or Law, you can find your perfect fit at EY to build your personal exceptional EY experience.
Business and International Tax Services
You help businesses all over the world find the opportunities that lie in tax planning, so they can reach their full potential. Within Business and International Tax Services, there are a number of specialisations for you to choose from depending on your interests: EY private, International Tax Services, Global, Compliance & Reporting (GCR), Transfer Pricing and Transaction tax.
Indirect tax
Within every supply chain there is a tax life cycle to take into consideration. By combining your technical knowledge with industry understanding you identify risk areas and opportunities for indirect taxes. This way clients can meet their obligations and their business goals at the same time. Depending on your main interests you can specialise in VAT, Global Trade or Indirect Tax Technology.
People Advisory Services
Business strategy often starts with people. As a business, you don't gain a competitive advantage unless you have the right people, with the right skills in the right place for the right cost. That's why our People Advisory Services, within our Tax & Legal service line specialises in everything that has anything to do with people management. Like Global Mobility, Employment Consulting, Immigration, Workforce Advisory and Reward.
Tax and Legal for Financial Services
Sometimes everything you need to know is already in the name. The Tax & Legal team for financial services provides tax and legal advice to a broad number of institutions, both in Belgium and abroad, in the financial sector such as banks, insurance companies and asset managers.
If you want to be surrounded by more than 50 of the very best corporate lawyers and want to provide legal services to Belgian and international clients in the fields of Corporate law & M&A transactions, Tax law, Employment law or EU, Competition & Trade law… Then EY Law is the absolute place to be for you. EY Law is part of the global EY Law network with more than 3.500 legal professionals in 90 countries.
Learn more about EY Law
I can honestly say that I've made friends for life at EY.

Valérie Havaux

Senior Manager – EY Law – Corporate & Commercial law
I chose EY for the inclusion culture. You see all sorts of people here.

Kenny Lushiku

Junior Lawyer – EY Law – Corporate & Commercial law
You can't be 90% sure of your work, you need to be 200% sure.

Wout Bodvin

Manager – EY Law – Tax Law
I get to build something from scratch in a safe environment.

Barbara François

Executive Director – EY Law – Employment Law
EY is one happy family. And it's a big one.

Louis Hoste

Manager – Corporate tax
Being more self-aware helps me to do my job better. I've grown as a person.

Timothy Lauwers

Consultant – Corporate tax
I like the bonus point system. I'm using mine for an extra long vacation next year!

Sophie Van Haelewyn

Senior Consultant – Indirect tax
Or reach out to our recruiters:
Let's build your exceptional EY Experience.
It's yours to build.